Event Will Feature a Bounty of Ancient and Contemporary Greek Favorites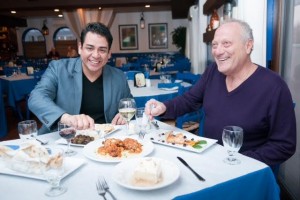 BETHLEHEM, PA (IMMEDIATE RELEASE) — Tour the Greek Isles through a culinary, wine and entertainment experience at Yianni's Taverna, Thursday, March 10, 6 p.m. to 10:30 p.m., to benefit the Judith Adele Agentis Charitable Foundation (JAACF.org).
"This fundraiser will be a fun night of foods, wine and entertainment highlighting different tastes and regions of the Greek Islands, all for a very good cause," says Maria Manakos, co-owner of Yianni's Taverna.
The menu will feature seven courses of Greek specialties:
 Grilled Blue Point Oysters with Ouzo-Compound Butter
 Duck Confit Baklava with Imported Greek Sour Cherry Preserves
 Octopus Fritter with House-Made Smoked Roasted Red Pepper Sauce
 Barrel­aged Feta and Kalamata Olives Served with House-Made Pita Chips
 Greek Coffee­rubbed Braised Beef Short Ribs Served with Sautéed Spinach and Creamy Mashed Potatoes
 Stifado—a rabbit and pearl onion stew—Served over Hilopittes (Greek noodles)
                 Arni Kleftico—lamb slowly roasted in parchment paper—with Feta, Artichoke Hearts, Onions and Kalamata Olives.
The dessert to be featured is Ekmek: shredded phyllo, creamy semolina custard and fresh whipped cream, topped with toasted almonds and honey.
Each Greek dish will be paired with an authentic Greek wine.
Vegetarian menus are available upon request.
Entertainment will range from an authentic belly dancer to vocalist Billy Murnin with the band "Not Quite Right" (formerly "Uproar"). The Olympian Greek Dance Troupe from St. Nicholas Byzantine Church will also perform and will be on hand to teach authentic Greek dance steps to those willing to learn. A silent auction of select items will be part of the fun.
The Judith Adele Agentis Charitable Foundation earned the Heart of Hospice Award from the PA Hospice Network, as well as the Shining Star Award from St. Luke's Hospital. JAACF supports Hospice Care families with free weekly meals donated to Hospice House of St. Luke's, and also provides funding for education and early detection screenings for pancreatic, colon, cervical, and liver cancers.
Yianni's Taverna is an authentic Greek restaurant located at 3760 Old Philadelphia Pike, Bethlehem, PA. Price per person for the Big Fat Greek Wine Dinner is $125.00.
Seating is limited. For reservations and ticket information, email BA.Jaacf@gmail.com or call 610-392-5460. Checks may be made payable to "JAACF.org." Mailing address is JAACF, P.O. Box 22075, Lehigh Valley, PA 18002.
Tickets are available online at http://go.activecalendar.com/JAACF/event/my-big-fat-greek-wine-dinner/
For more information about the Judith Adele Agentis Charitable Foundation, visit www.JAACF.org or connect on Facebook at /JAACF.