Connect with the public, the press, your audience, and your target customers with Tina Bradford Public Relations.
When City Line Construction crews found a time capsule on the site of a former orphanage, the firm called Tina Bradford Public Relations to maximize press coverage and to partner with former students, the town of Coopersburg, and the Catholic Diocese. A truly moving human.
Interest story here in the Lehigh Valley.
Click here to read: Coopersburg Time Capsule Opening; Cityline Construction
Time capsule in Lehigh Valley Live
Another Success Story: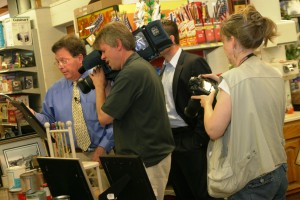 News and TV crews attend successful news conference at Cantelmi's Hardware Store,
a Lehigh Valley business founded in 1922. Tina Bradford Public Relations created slant,
wrote all press releases and media alerts, invited guests and scheduled and invited all media.
A great success.
A continuous flow of news is paramount for a truly effective public relations and social media plan.
Here, are a few links to articles placed for client Judith Adele Agentis Charitable Foundation.
Stay tuned for more links as new articles are placed.
When Dr. David Molony was honored as the first American to win a prestigious Chinese Medicine
Award, our team got the word out around the globe.
International press for Dr. David Molony, First American to Win Chinese Medicine Award in China