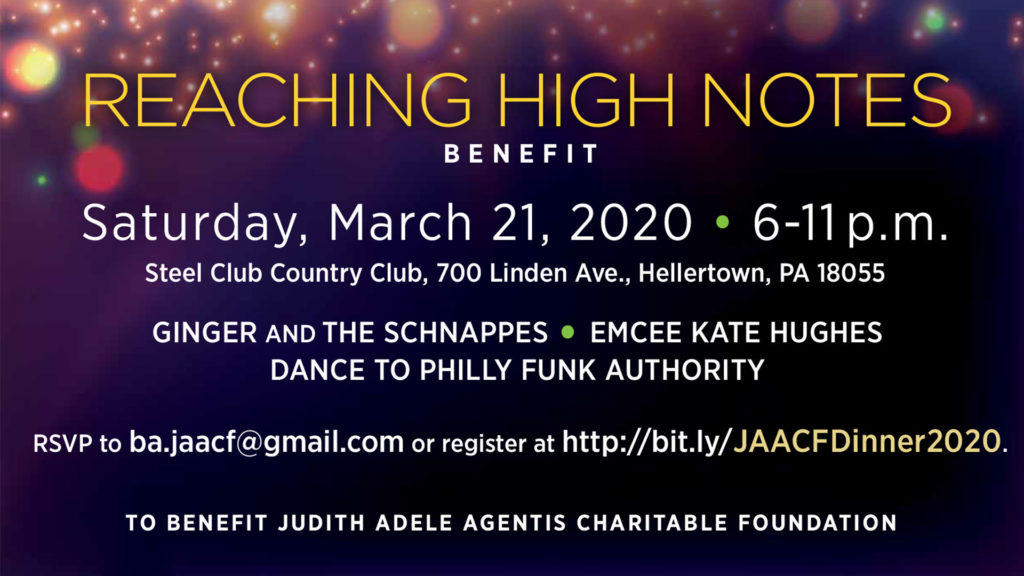 Reaching High Notes, the Judith Adele Agentis Charitable Foundation (JAACF) annual dinner gala will headline Philly Funk Authority, Saturday, March 21, 6 to 11 p.m., at Steel Club, formerly Silver Creek Country Club, 700 Linden Avenue, Hellertown, PA.
The night of entertainment will also include a cocktail/jazz cabaret hour by Ginger and The Schnappes, in addition to a live and silent auction of fine art, fashion, lessons, and gift certificates. The venerable, Kate Hughes, will serve as emcee.
Tickets are $95 per person and include passed hors-d'oeuvres, a three-course dinner of filet mignon, signature crab cakes, roasted vegetables, and dessert. A vegan option is available.
For tickets, Reaching High Notes with Philly Funk to Benefit JAACF org, or https://www.eventbrite.com/e/reaching-high-notes-with-philly-funk-authority-tickets-54428016663
"We depend on the generosity of local businesses and supporters," says Robert Agentis, JAACF founder and chairman.
JAACF board members and volunteers have delivered more than 20,000 meals to family members spending precious last moments with a loved one at St. Luke's Hospice House.
The Judith Adele Agentis Charitable Foundation was the recipient of the P.A. Hospice Network Heart of Hospice Award and was awarded the Shining Star Award from St. Luke's Hospital Network. In addition to nourishing meals, JAACF is raising funds for scholarships in palliative care. The non-profit also provides early cancer detection education for pancreatic, liver, and colon cancers.
For more information, visit JAACF.org; on Facebook, or email ba.jaacf@gmail.com. The mailing address for JAACF.org is P.O. Box 22075, Lehigh Valley PA 18002.